SPRING 2018 SEMESTER EVENTS
February 19 | Welcome back chili luncheon

Join the psychology department for a welcome back chili luncheon! Faculty will bring in chili or soup so come by and chat with us over lunch.

Time: 11:45-12:45; Location: Milliken 233

~~~~~~
March 6 | IMPORTANT ADVISING SESSION! (And if there's time afterward: Everything You Always Wanted to Know About Senior Thesis)

Come and learn about some changes to the psychology major curriculum! And afterward stay for some important information about the required senior thesis course (and hear from seniors who have already taken it!).

Time: 11:00-12:00
Location: Milliken 225
~~~~~~
March 13 | Applied Psychology: What is it and how do I make a career out of it?

Thinking about a career in psychology, but you're not sure what careers are out there? You're in luck! This talk given by our own Drew Morris (ABD, Clemson University) will cover graduate programs and careers in applied psychology, including human factors, industrial organizational, school, and sports psychology.

Time: 11:00-12:00
Location: Milliken 225
~~~~~~
March 15 | Bake sale to benefit Lucky Pup Rescue!

Come out to the seal of Old Main and buy a goodie! All items $1 or less and you can pay cash or Venmo your payment. All proceeds benefit Lucky Pup Rescue!

Time: 11:00-1:00
Location: Seal of Old Main

~~~~~~
March 27 | Why Participate in Independent Research?

Dr. Dave Pittman will lead a discussion about the importance of conducting independent research and how this can prepare you for success in your senior thesis course. Come with questions!

Time: 11:00-12:00
Location: Milliken 225
~~~~~~
March TBA | Terrier Play Day

We sponsor a booth for Terrier Play Day! Come help us 4:00-5:30p to make Terrier Play Day a success for the children of Spartanburg.
~~~~~~
April 26 | Semi-Annual Psychology Department Colloquium Series & Luncheon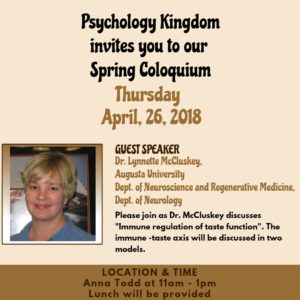 ~~~~~~
May 11 | Student Research Colloquium
Come support Wofford seniors who conducted their thesis or other empirical projects! Learn about the different options you have available for conducting your senior research thesis, and learn some tips on how to prepare a scientific presentation.

Time: 2:00-4:00pm; Location: Olin Theater
~~~~~~
May 11 | End of year party

Calling all psychology students: Come and hang out with the faculty! Party @ the Pittman Residence (Click here for a map). Catered by Taco Dog!

Time: 6pm