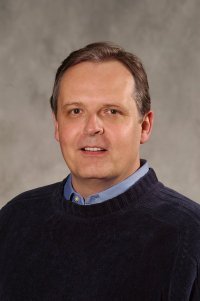 Ron Robinson is  the Perkins-Prothro Chaplain and Professor of Religion at Wofford College. He directs Wofford's Interfaith Programs.
A 1978 Wofford graduate, Robinson earned two postgraduate degrees from Duke University, an M.Div. and Th.M.  He earned his doctor of ministry degree (D.Min.) at Southern Methodist University and also received a certificate in church management at the Babcock School of Management at Wake Forest University.  He received Charlotte's Keeper of the Dream Award for his leadership in race relations.  He was a recipient of the Communicator of The Year Award in Western North Carolina. Previously he served Myers Park United Methodist Church in Charlotte for 15 years.  He has also been a campus minister at Duke University. His writings include three books addressing the topics of servant leadership and the spiritual life, interfaith engagement, and peacemaking .
His interests include popular film and music, sports, travel, fly-fishing, and swapping stories.
As chaplain, Robinson leads several types of religious experiences, including services that utilize music, film and art.  He offers pastoral care, spiritual direction, life coaching and vocational exploration for the Wofford community.
His research interests include spirituality in higher education, religion and the environment, and religion in the American South.
Robinson has led students on trips to China, Botswana and Namibia, Mexico, the Bahamas as well as to numerous domestic locations. An activist who is involved with issues related to poverty, the environment and justice, he has led students and faculty on a Borderlinks Project on the US-Mexico border, a Civil Rights Tour of the South, a symposium on Religion and Environmental Studies at Yale University, and has participated in the Parliament of World Religions.  He speaks around the world on pluralism and human flourishing.
Robinson says his greatest joy in life is helping students discover their talents and strengths.  He is known throughout the Wofford community for his ability to connect students with meaningful experiences that help them discover their calling in life.  He offers counseling and coaching for individual students and leads workshops for small groups.