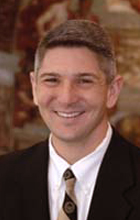 David Pittman, Ph.D.
Professor of Psychology & Coordinator, Program in Neuroscience
Wofford College
pittmandw@wofford.edu
Dr. Pittman received his B.S. degree (Psychology) from Wofford College. Continuing with graduate training at the Florida State University, Dr. Pittman received his M.S. degree in Psychology and his Ph.D. degree in Neuroscience. At the Florida State University, he taught classes in sensation and perception, conditioning and learning, and biological psychology and received the "Outstanding Teaching Award" from the Program of Instructional Excellence.  Dr. Pittman's research training was as a sensory physiologist specializing in electrophysiological recordings of taste neural coding and ingestive behavior psychophysics.
At Wofford, Dr. Pittman teaches neuroscience courses in the Psychology department including Biological Psychology, Sensation & Perception, Behavioral Neuroscience, Neuroscience Seminar, Psychopharmacology, and Senior Research Thesis.  In May of 2011, Dr. Pittman received the Roger Milliken Award for Excellence in the Teaching of Science, a $50,000 prize awarded over a ten-year period to promote faculty development.  Dr. Pittman received the "Distinguished Graduate Award" in 2014 from the Program in Neuroscience at the Florida State University.
Dr. Pittman's laboratory examines how taste neural signals are sent from the mouth to the brain and how the sense of taste then affects feeding behavior in both humans and rat animal models. Two main questions are currently being explored in the laboratory. Dr. Pittman is interested in understanding how dietary fats produce taste sensations and motivate the consumption of high-fat foods. Additionally, research is also exploring how anti-anxiety drugs, such as Valium, may alter taste sensations to increase the palatability of food and thus increase patients' food consumption when taking those medications.
Dr. Pittman has also developed and supports a school-based intervention for elementary school lunch programs called Healthy Eating Decisions which aims to reduce childhood obesity in Spartanburg County. Dr. Pittman is the Coordinator for the Program in Neuroscience, chair of the Institutional Animal Care and Use Committee, faculty advisor for the Kappa Sigma fraternity, and is a member of the Spartanburg County Childhood Obesity Task Force.